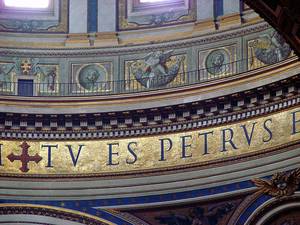 WOULD HAVE LOVED to have been at the CMAA Colloqium last week, but I spent that time teaching at Benedictine College's summer Cathedral Program. For one week each summer a number of high school students make a pilgrimage to one of America's great Catholic colleges (one can find it on the Newman Guide) for a week of prayer, study, work and fun. Each day students attend Holy Mass, pray the Rosary and learn how to—and pray—Lauds, Vespers and Compline. Mornings are usually spent studying theology, while the afternoons are dedicated to one of several specialized areas of learning. I was privileged to teach the voice track and thought I would share with you one of my presentations, which I used to show the students how music and theology work together.
I began by reading St. Matthew 16:13-19:
Now when Jesus came into the district of Caesarea Philippi, he asked his disciples, "Who do men say that the Son of man is?" And they said, "Some say John the Baptist, others say Elijah, and others Jeremiah or one of the prophets." He said to them, "But who do you say that I am?" Simon Peter replied, "You are the Christ, the Son of the living God." And Jesus answered him, "Blessed are you, Simon Bar-Jona! For flesh and blood has not revealed this to you, but my Father who is in heaven. And I tell you, you are Peter, and on this rock I will build my church, and the powers of death [the gates of Hades] shall not prevail against it. I will give you the keys of the kingdom of heaven, and whatever you bind on earth shall be bound in heaven, and whatever you loose on earth shall be loosed in heaven."
I explained that Caesarea Philippi was quite a distance out of the way for Christ and His disciples, and besides, an orthodox Jew was unlikely to find himself in this city named in honor of Caesar Augustus by Herod Philip, where there was an enormous cave believed to be the gate to Hades and where the ancients worshiped Baal. This cave was formed in the side of an enormous cliff 100 feet high and 500 feet long, which had the appearance of a gigantic rock sitting atop the entrance to the underworld. In front of the cave was a temple dedicated to Caesar Augustus where pagan sacrifice took place, among other more bizarre rituals.
Standing in view of such a sight, Christ asks His disciples who they think He is, and St. Peter professes that He is the Christ, the Son of the Living God. The pagan gods surrounding Christ and His disciples are meaningless and utterly worthless, for here before them stands the true God, in the flesh. Christ then bestows the authority of His Kingdom on St. Peter, who is "rock" (an infinitely greater rock than the nearby cliff) and tells Peter that the "gates of Hades" will not prevail against him.
Then I showed the students a picture of the inside of the dome in St. Peter's Basilica and the text inscribed around the base in letters as tall as a grown man,
TU ES

PETRUS

, ET

SUPER

HANC

PETRAM

AEDIFICABO

ECCLESIAM

MEAM

,

ET TIBI DABO CLAVES REGNI CAELORUM

We know that St. Peter is buried beneath the papal altar under the dome of St. Peter's, but even more importantly, that Pope Francis is the successor to St. Peter, who even today holds the keys to the Kingdom of Heaven as Christ's Vicar on Earth. I shared that shortly after the election of Pope Benedict XVI in 2005, Cardinal George of Chicago looked pensively across the piazza where the obelisk from the Circus Maximus stood. Later a reporter asked him what he was thinking and he replied that while many dictators and rulers and nations had come and gone in the last 2000 years, Peter was still with us.
I then showed the students a video of Palestrina's Tu es Petrus from Pope Francis' first Mass in the Sistine Chapel, followed by a video of James MacMillan's Tu es Petrus, sung during Pope Benedict's Mass at Westminster Cathedral during his pastoral visit to England in 2010. Afterward we compared and contrasted these two versions and discussed how each composer brought out various aspects of the text from Sacred Scripture.
Palestrina's version is calm and regal, perfectly at home in St. Peter's Basilica. During the time of its composition the Church had entered the glorious period of the Counter Reformation and sought to re-establish Catholicism throughout Europe as well as take the Faith to the ends of the earth. It was a time when the Church was very sure of Herself and Her mission, united under Peter, to spread the Gospel.

MacMillan's setting is very different and came out of a country where the Church had been persecuted unmercifully for 400 years, and where, one might say, it is entering a new persecution. Great Britain has been home to epic struggles for those remaining faithful to Christ and His Church. These struggles are very palpable in MacMillan's Tu es Petrus. As one student commented, it sounded like the music from a battle scene in The Lord of the Rings. I would agree, and personally find this to be a fruitful exchange between the sacred and secular realms of music. In this particular work, the Petrine ministry is presented as a father who is prepared to enter the bowels of hell to fight for the souls of his children. There is nothing calm about it.

I hope and pray the Church continues to raise up true artists like Palestrina, Bach, Mozart, Durufle, MacMillan and many others who will bring the Gospel to the world through the greatest of all the Church's arts—Music.
Opinions by blog authors do not necessarily represent the views of Corpus Christi Watershed.