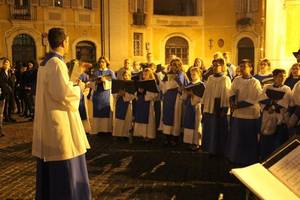 OR ANYONE who might be in Topeka, Kansas, on Sunday, April 24th, I would like to cordially invite you to attend the Most Pure Heart of Mary Schola Cantorum's Spring Concert at 3:00 p.m. in the church (17th and Stone Ave).
The Children of the Choir will perform Pergolesi's Stabat Mater, while the Ladies and Gentlemen of the Choir will performs Schubert's Mass No. 2 (G Major). Tickets can be purchased at the door.
You can hear the Gentlemen and Children of the Choir below.
Opinions by blog authors do not necessarily represent the views of Corpus Christi Watershed.