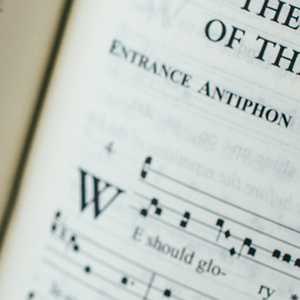 READILY ADMIT that I am a perfectionist. When I do something, I believe in doing it well and to the greatest extent possible, which has always been my goal in the sacred music field (why else do something so insane as beginning a choir school!). To that end, my choir began singing at least the Communion antiphon during choral Masses. I decided to sing them in English (thinking this might temper any anti-Latin backlash), settling on two different simplified versions. However, neither of these versions went over well with the choir (myself included), the congregation or even our pastor. One day he came into my office and echoed what the choir had been telling me for several months—he found these chants to be boring and asked if we would please stop singing them. A little while later I decided to go for broke and used Richard Rice's Communio settings. Funny enough, no one protested (several people did ask for translations, which we now provide) and a number of people commented to me on how beautiful they thought the chants were. So… what did I conclude?
We often speak of Gregorian chant as having a deep Catholic spirituality and ethos, and I think maybe it was those universal qualities that appealed to my fellow parishioners. When I reviewed Fr. Weber's new book The Propers of the Mass for Sundays and Solemnities, I found those very qualities in his settings of the Propers. Andrew Motyka wrote that they have the "smell" of the Liturgy. I might add that it is because they have the "smell" of the Gregorian Propers (especially the first option for each antiphon) and those universal qualities described above. If I were to use English settings of the Propers of the Mass, this would be my go-to book. Bravo Fr. Weber!
This article is part of a series on Fr. Weber's Book of Propers:
Opinions by blog authors do not necessarily represent the views of Corpus Christi Watershed.