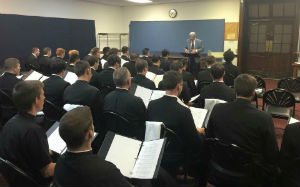 HIS year's Sacra Liturgia UK proceedings in London were extremely interdisciplinary. Lectures were given that were primarily historical, while others were theological, evangelical, or pastoral. One presentation was focused on art, while an entire afternoon was dedicated to sacred music. I want to share with you some of what was presented about sacred music.
DR. JENNIFER DONELSON, who serves as Director of Sacred Music at St. Joseph's Seminary (Dunwoodie) in New York, gave a talk entitled, "Origins and Effects of the Missa Lecta: Priestly Musical Formation in a Low Mass Culture." Later in the day, a panel discussion was held among four experts on sacred music: Dr. Donelson, Dr. William Mahrt, Adam Bartlett, and Fr. Guy Nicholls.
The presentation by Dr. Donelson, in particular, addressed a matter of key significance in our times. The formation of future priests has many important aspects, not the least of which should be their musical training. How does one begin the musical formation of a seminarian, however, when many of the men now undertaking studies for the priesthood grew up in a decidedly "low Mass" culture? By this phrase, Dr. Donelson refers not specifically to the Extraordinary Form, but rather to the Ordinary Form celebrated either without music or at least without the fullest expression of sacred music envisioned by the rites of the Church. This culture, largely the status quo today, is derived in some ways from the pre-conciliar "low Mass" mentality, which valued expediency over ceremony, utility over beauty.
Much of the trouble Dr. Donelson attributes to "liturgical sloth," a phrase that arose several times throughout the conference (and which Dom Charbel Pazat e Lys even suggested could serve as a good thesis topic). Liturgical sloth is the vice that places greater priority on "getting Mass done" than on offering Mass with due solemnity. Very often, it is expressed in the slashing of the music proper to the Roman Rite and a rushing through the Liturgy of the Eucharist. Donelson wisely observes: "There is a danger in allowing the Roman Rite to become totally unhinged from its musical foundations because of the human proclivity to sloth."
Other issues with priestly musical training, Dr. Donelson argued, include the common mentality that sees sacred music as a distraction and wistfully longs for the silence of Low Mass, or the 6:30 AM "Mass without music." There is, indeed, a beauty in the silence one encounters at Low Mass. "If this is one's only solitude with God," however, "one runs the risk of turning the Mass into a private devotion." This, I believe, is an important observation. While silence has an important role in the Roman liturgy, turning to the Mass for our total daily allotment of silence is bound to have unintended negative consequences. The solution, of course, is to increase our diet of silence and stillness not only at Mass, but also throughout our day.
Dr. Donelson described the celebration of Mass as an act of divine worship, but not fundamentally a contemplative act. Said another way, the Mass is prayer, but not all prayer is contemplation. The work of contemplation is necessary for true human flourishing, but its native home is extra-liturgical. Donelson's advice to a priest who rightly wants the Mass to be a prayerful experience is that he "must cultivate a personal prayer life that enables his celebration of the Mass to be similarly prayerful."
Sometimes, seminarians may resist their musical formation. Like many other people, some will claim to be "tone deaf," Donelson acknowledged, when their actual deficiency is that they have never been trained. Others may not perceive singing as a masculine activity. For others, the resistance may arise from the subliminal sense that music is a spectator sport to be observed, rather than a personal activity in which we engage.
All of these forms of resistance can be overcome. The first step in surmounting them is to appreciate more deeply the musical roots of the liturgy. One must come to realize, as Donelson proposed, that "nearly all the parts of the Mass have been sung since antiquity." The fact that most people in modern society have never experienced a truly solemn liturgy, wherein most parts are sung, should be seen as regrettable. "The solemn Mass must be understood as normative," Donelson contends. As I have argued before, this predisposition toward the solemn largely inverts the manner in which the principle of "progressive solemnity" is typically understood.
A final observation that was shared about the musical training of seminarians is a very practical one. Donelson suggests that musical training, as a facet of the Program of Priestly Formation, must be considered integral to a seminarian's formation. Thus, it should not be expected to be completed in one giant block; it must, rather, be an ongoing part of his seminary experience. This training, together with the experience of the liturgy celebrated well within the seminary community, are essential components of a sound liturgical formation.
More and more, we are coming to realize how important the role of truly sacred music is in the work of liturgical renewal. Where better to begin addressing this realization than in the formation of future priests?
Opinions by blog authors do not necessarily represent the views of Corpus Christi Watershed.