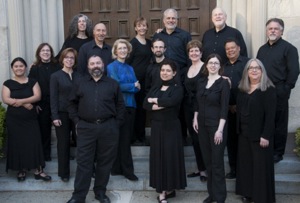 HAVE LONG ADMIRED the writing of poet Adam Wood (b. 1982); his poetry, prose, and commentary are distinct, stemming in part from eclectic passions which include liturgy, theology, technology, economics and the Open Source. The results of such combination of interests are fascinating.
When Jennifer Lester, Director of The Seraphim Singers, asked me to compose another work for them on sacred poetry, I eagerly dug into Adam Wood's work. His dedication to the spirit, art, and intellect (often infused with sharp wit) constitute a distinctly unique body of work from which one will elicit much inspiration and insight.
The result of this collaboration is On Emptiness, Wisdom, and Fortune (2014) which combines two of Wood's poems On Fortune and On Emptiness. You can read Adam Wood's essays and poems here.
IF YOU ARE IN THE BOSTON AREA be sure not to miss this premiere as part the Seraphim Singer's "For Heaven Is a Different Thing." Choral Settings of Sacred Poetry. There will be two performances:
Sunday, October 25, 2015, 3:00pm
First Church (Congregational) 11 Garden St., Cambridge, MA
Friday, October 30, 2015, 8:00pm
St. Cecilia Parish, 18 Belvidere St., Boston, MA
$20 general admission and $15 senior/student.
• Tickets are available at the door or purchase online here
• Download the concert program here
• Download the concert poster here
HE SERAPHIM SINGERS ARE ENORMOUS ADVOCATES of new music with several new commissions each year. Jennifer Lester's programming is astonishingly vast, from Gregorian Chant and Renaissance Polyphony to Twenty-first Century works. Yet, her programming flows with astounding unity and beauty. The Boston Music Intelligencer writes:
"Ingenious programming by Jennifer Lester…"
"Anyone who cares about these genres owes it to him/herself to hear this gifted ensemble whenever possible."
"Technically, the ensemble was in fine form, performing incredibly challenging choral repertoire with a high degree of finesse."
Hope to see you there!
Opinions by blog authors do not necessarily represent the views of Corpus Christi Watershed.