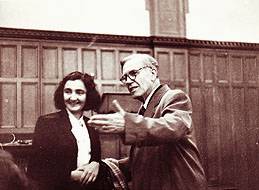 Dietrich and Alice von Hildebrand in 1956
ccording to the Dietrich von Hildebrand Legacy Project website, volume I of Dietrich von Hildebrand's writings on aesthetics was translated this year. How thrilling! I believe it will be a work of intense interest to Catholic artists and musicians.
For those of you who have not had the pleasure of discovering the writings of Dietrich von Hildebrand or his esteemed wife, Dr. Alice von Hildebrand, I encourage you to read his biography, Soul of a Lion. It is the story of the brilliant son of a famous sculptor and his growth from a childhood immersed in a pagan appreciation of beauty to an adulthood focused on the Christian notion of beauty. An outspoken idealist and philosopher, von Hildebrand was hunted by the Nazis during World War II until he escaped to America.
Resting Shepherd Boy by Adolf von Hildebrand Dietrich von Hildebrand's father was the sculptor Adolf von Hildebrand who wroteThe Problem of Form in Painting and Sculpture in 1907. It is a excellent treatise for artists on the depiction of three-dimensional space.
Each summer, the Dietrich von Hildebrand Legacy Project hosts a summer seminar to promote study of his writings and ideas. I went last summer and enjoyed the week immensely. It was astonishing to see how the writings of one man brought together professionals from such fields as philosophy, theology, education, and the arts.
Watch the video below to see the highlights from last year's program:
Opinions by blog authors do not necessarily represent the views of Corpus Christi Watershed.