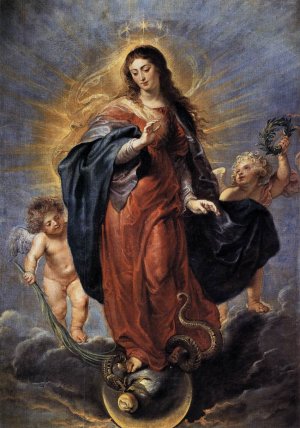 HE DATE OF THE IMMACULATE CONCEPTION this year is thoroughly confusing, even to Mass-going cradle Catholics. The transfer or omission of holydays that fall on Friday, Saturday, Sunday, or Monday is a mystery to most, and I am afraid I won't be able to shed much explanatory light.
What I would like to do, however, is give an encouragement.
This year (in the Ordinary Form), the Solemnity of the Immaculate Conception is superceded by the Solemnity of the Second Sunday of Advent. As such, the holy day will be observed on Monday, December 9th. (In the Extraordinary Form, the Immaculate Conception remains a first class feast and is not supplanted by the Mass of Sunday; the orations for the Sunday, however, are commemorated.)
While Monday therefore will not be a holy day of obligation, it will still be a holyday. So my encouragement is this: although attendance at Mass is not obligatory, let's make sure to celebrate Monday as the holyday that it is.
Tomorrow, if you are able to go to Mass, go. It doesn't matter that it's not required. If you are able to avoid work, do so. If you have an opportunity to make a visit to the Blessed Sacrament, take it. If you want to mark the day with your family, pray the rosary together or sing a hymn to the Blessed Mother after dinner.
These suggestions hold true also for holydays that are, in fact, holy days of obligation. It is quite possible to go to Mass on those days, but not really observe the "spirit" of the holyday.
On the patronal feast of our country, let's not miss the opportunity to honor the Blessed Lady and renew our devotion to her. O Mary, conceived without sin: pray for us who have recourse to thee!
Opinions by blog authors do not necessarily represent the views of Corpus Christi Watershed.