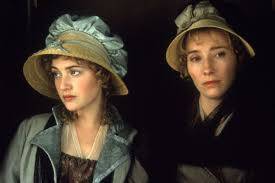 N JANE AUSTEN'S immortal novel Sense and Sensibility, we encounter the devoted, if extremely dissimilar, Dashwood sisters, Elinor and Marianne. Elinor, the eldest, is the model of sense and self restraint, always ready to place what is right, as well as the good of others, before her own self concern; Marianne, on the other hand, is the model of sensibility, always ready to follow the mood and emotion of the moment, regardless of the needs and feelings of others. As in all of her works, the affairs of the heart of both Elinor and Marianne form the plot of Austen's Sense and Sensibility.
As the story begins, the Miss Dashwood's dying father evokes a promise from his only son (from a previous marriage) to financially provide for his step-mother and step-sisters (Elinor, Marianne and a younger sister) after the elder Mr. Dashwood's demise. Despite every good intention to carry out his father's wishes, the younger and fickle Mr. Dashwood is promptly discouraged from doing so, thus Elinor and Marianne are left with only the capital of their good names and family relations to make up for their unfortunate deficit of fortune and rank.
Elinor eventually falls in love with Mr. Edward Ferrars, whose family has higher prospects in mind for him than the impoverished daughter of a landed gentleman. Matters are further complicated because earlier in life, Edward secretly and foolishly promised his hand in marriage to another, Lucy by name, whose decent good looks and unending use of flattery are barely able to conceal her want of education and good breeding. She is the model of the social climber. Nevertheless, the honorable Edward refuses to break his promise of future marriage to Lucy, even though it means he will forever be separated from Elinor. For most of the novel both characters silently and secretly put right and honorable conduct before their own hopes and desires—no doubt a bitter cross to carry.
Marianne, on the other hand, falls in love with Mr. John Willoughby, a young man as different in temperament and conduct from Edward Ferrars as Marianne is from Elinor, yet whose exuberant love of life and eternal gaiety are as eminently suited to Marianne's sensibilities as Edward is to Elinor's sense. Such reliable facts and sure sign-posts as the emotions of the human heart prove to Marianne beyond a shadow of doubt that she and Willoughby are the perfect couple. It comes, then, as quite a shock when Willoughby gathers up his own sensibilities and leaves her (before the proverbial knot is tied) for a jealous women of lesser worth but greater fortune.
Marianne, upon learning of Willoughby's treachery, indulges in every form of interior questioning and self pity—if her soul should soar in moments of jubilation, then it surely must sink in times of despair. She is wasting away when she learns of Elinor's own cross and how her sister has born it in silence and serenity. She wonders how it is possible and Elinor replies that "…while the comfort of others was dear to me, I was glad to spare them from knowing how much I felt."
Marianne wonders if her sister ever really loved Edward, if she can so easily let him go. Elinor replies "I understand you.—You do not suppose that I have ever felt much.—For four months, Marianne, I have had all this hanging on my mind, without being at liberty to speak of it to a single creature; knowing that it would make you and my mother most unhappy whenever it were explained to you…— If you can think me capable of ever feeling—surely you may suppose that I have suffered NOW. The composure of mind with which I have brought myself at present to consider the matter, the consolation that I have been willing to admit, have been the effect of constant and painful exertion;—they did not spring up of themselves;—they did not occur to relieve my spirits at first.— No, Marianne.—THEN, if I had not been bound to silence, perhaps nothing could have kept me entirely—not even what I owed to my dearest friends—from openly shewing that I was VERY unhappy."—
"Marianne was quite subdued.—
"Oh! Elinor," she cried, "you have made me hate myself for ever.—How barbarous have I been to you!—you, who have been my only comfort, who have borne with me in all my misery, who have seemed to be only suffering for me!—Is this my gratitude?—Is this the only return I can make you?—Because your merit cries out upon myself, I have been trying to do it away."
Of course Edward and Elinor eventually wed and Austen declares them to be "one of the happiest couples in the world" and that "Marianne Dashwood was born to an extraordinary fate. She was born to discover the falsehood of her own opinions, and to counteract, by her conduct, her most favorite maxims."
I heartily recommend the novel for the pure and simple pleasure of reading it. I also recommend it because of the lesson it teaches us regarding the folly of leading one's life based on human sensibilities untethered from truth and reason. This lesson is true no less in the realm of sacred music than in the realm of lovers.
N A REAL WAY, Gregorian chant and sacred polyphony are the sense in liturgical music. Contrary to popular belief there is emotion in this music, but it is always in harmony with, and ultimately subjugated to, truth and reason. It gently awakens emotions that raise the mind and heart to God, rather than stirring them up purely for their own sakes.
On the other hand, Praise and Worship and other similar styles (there have been such styles of music since the beginning of the Church—this is NOT an old versus new issue)  form the sensibility aspect in liturgical music (although they really aren't liturgical works). These styles place emotion and the self at the center of the Sacred Liturgy and Christian life and that simply can't be. The Church's public worship and our Christian life isn't about ourselves, it is about the Other.
This is obviously a very simplistic analysis of an extremely complex issue and I haven't yet even touched upon the untold number of works of sacred music in about as many different styles and national qualities, ranging from ancient to modern, that are imminently suited to the Sacred Liturgy, but that isn't the point of this article. My point is to challenge those involved in the world of sacred music, especially where the youth are concerned, to first ask themselves what is musically most appropriate and only then to ask themselves: "What music do people like?"
All too often I hear the battle cry that we must offer the dwindling number of young people in our churches music in accord with their sensibilities and emotions—music that they like, music they can "get into," music that moves them and helps them to experience God… and yet the numbers keep falling. Like Marianne Dashwood, we are tasting the bitter fruits of disappointed love.
What if, on the contrary, we flip the paradigm and first offer what is musically most appropriate and then allow peoples' sensibilities to be formed by it? Perhaps like Elinor Dashwood, we might have the sense and charity to look beyond ourselves, our own musical wants and whims and obediently follow a much surer path.
Opinions by blog authors do not necessarily represent the views of Corpus Christi Watershed.