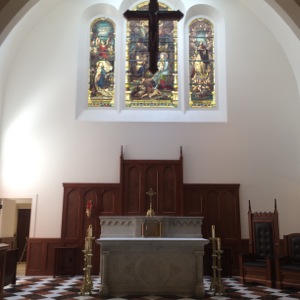 HE DEDICATION of a church is a sometimes rare event, especially in many places where parishes are being closed. But with changing demographics, the needs of the faithful change. Such is the case in the booming Seaport District in Boston, Massachusetts.
New construction is everywhere. You can watch a story on Boston's ABC affiliate WCVB here.
You can read more about the opening in today's Boston Globe here.
The Shrine of Our Lady of Good Voyage will be dedicated on Saturday, April 22 with His Eminence Seán P. Cardinal O'Malley, O.F.M. Cap. as Principal Celebrant and Homilist. You may view the partial and unofficial draft of the worship aid here. (Certain music is listed but not included in this PDF.)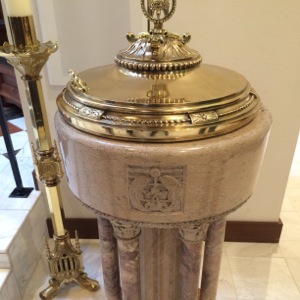 NIQUE TO this occasion is that it falls within the Octave of Easter. As such, the Sequence, Victimae Paschali laudes is being sung, optional on the Second Sunday of Easter in the Novus Ordo (and throughout the Octave). The Dedication Mass will also include works by Bruckner, Byrd, Marier, Ostrowski, and Peloquin among others.
It is a rare privilege to be a part of such a Mass, a rare opportunity in a lifetime. As such, I have composed several antiphons specific to the Rite of the Dedication to a Church as well as a communion proper for the Dedication of a Church. Those interested in viewing the settings, please contact me.
Built with a great deal of marble and wood (and no carpeting) Our Lady of Good Voyage is blessed with extraordinary acoustics. The interior is rather traditional in design and makes wonderful use of repurposed materials from other closed churches. In this way, the prayer of the faithful generations before live on in this beautiful place of worship.
Please pray for the good work of this Shrine and of the Universal Church. May the the doors of the Church be wide open and the Gospel spread far and wide.
Soli Deo gloria
Opinions by blog authors do not necessarily represent the views of Corpus Christi Watershed.