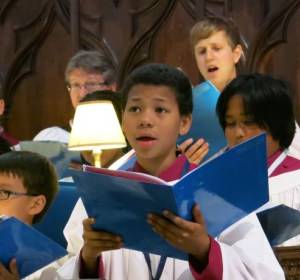 ODAY IS ALWAYS a day of great joy and excitement for me as chorister rehearsals begin for the new choral year. If you aren't used to working with children, it can be a bit daunting on your first day, so I thought I would share with you some ideas of things I use and even things that I would like to do sometime in the future. I am starting this post assuming that you already have music chosen and schedules set in stone, so with that in mind, let's dive in.
Before rehearsals begin, I sit down and map out which pieces I plan to rehearse in each session for the entire semester. I find that I set much more realistic goals in terms of how much music I endeavor to tackle each time the choir meets. Funnily enough, I get through more music this way, as opposed to trying to schedule rehearsals on a daily basis, which ends badly as I rush the choir through twice as much music (never spending time on details) because I am only focused on the next Mass and forget about spreading concert music out throughout the semester and thus, have to force it in last minute.
On the first day of rehearsals I spend a large amount of time going through rehearsal procedures with choristers. How should they enter the room? Where do their backpacks go? What should each chorister have at his place? How do we pass out music efficiently? How do choristers get tissues and go to the bathroom without wasting time? When should one sit, stand or relax? Etc.
Much of this I have learned from my wife who "teaches" Catechesis of the Good Shepherd. For those who are unfamiliar with this wonderful way of "teaching" the Faith, it is based on the educational philosophies of Marie Montessori (many don't know she was a devout Catholic) and Sofia Cavalletti. When a child first enters the atrium (the Catechesis of the Good Shepherd classroom), the catechist spends a large amount of time showing the child how the classroom works, including how to walk, talk, carry something, etc. in the atrium. This training removes many behavioral problems because the child knows what is expected of him. Once a stable environment has been established, learning is much easier (and more fun). Another good book on the subject was recommended to me by our principal and is entitled The First Days of School by Wong and Wong.
The last thing I would like to share is an idea I recently had and am trying to figure out how to do it in future years, namely creating the environment of a team among the choristers. Sports teams do this all the time and residential choir schools do it by default, but I don't know that many choirs do it intentionally. In the modern era when children are pulled in all directions to join this and that, I find that the students who remain in the Schola Cantorum are those who connect to the choir in such a way that they feel they are a necessary part of the whole. The Madeleine Choir Schools takes students on a week long summer camp each year before school begins to help create such an atmosphere and to get a head start on rehearsing concert literature. I am not in a place to do that yet, but I am sure there are other ways to "skin the cat" so to say. If readers have any suggestions (either ideas or books), please let me know.
Whether you conduct a choir of children, adults or both, I wish you the best at the beginning of your choral year!
Opinions by blog authors do not necessarily represent the views of Corpus Christi Watershed.