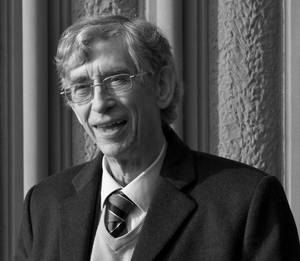 EVERAL MONTHS AGO I posted about Colin Mawby and his time at Westminster Cathedral as Master of Music and director of the cathedral's world famous men and boys choir. I included information he had sent me several years prior, so Jeff Ostrowski asked if I had received Mawby's permission to include his remarks. I told Jeff he had given me permission at the time, but decided it wouldn't hurt to ask him again.
I am grateful for Jeff's prodding, because in the midst of my conversation with Mawby over the post, he told me he would love to compose a work for my parish's children's choir (The Children of the Most Pure Heart of Mary Schola Cantorum) should I ever want him to. I mentioned our upcoming trip to Rome and said we would love to premier one of his works in the Eternal City. A great priest/friend of mine agreed to pay the commission, and we decided on the text of the Ave Maria, since our parish is under Our Lady's patronage. Within two weeks Mr. Mawby sent me the finished score, set in five parts (SSATB). I passed it out to the choir—and they loved it! As one of the high school boys in the choir put it, "this is the piece that every other composer wishes he had written." The work vacillates between D minor and D major, and is very contemplative in nature. Every time I listen to it, I find myself present at that historic moment when St. Gabriel uttered the words Ave, gratia plena to a young Galilean women so totally absorbed in prayer that the Eternal Word pitched His tent in her and dwelt in her very body.
So… thank you, Jeff, for a little extra prodding. Not only did the world gain a beautiful new piece of sacred music, but the choristers of our parish are able to contemplate the Incarnation in a new light. They are also excited to meet Mr. Mawby, who emailed me two weeks after he sent me the music saying he had already purchased his plane ticket and would see us in Rome!
Editor's Note: Dr. Tappan will be in Rome with his choristers. He will not be able to post any blogs while he is in Rome. He also has a brand new member of the family, so let's be patient with him!

We hope that Dr. Tappan will consider sharing this piece with our readers when the time is right, but we must wait until after it is premiered in Rome.
Opinions by blog authors do not necessarily represent the views of Corpus Christi Watershed.