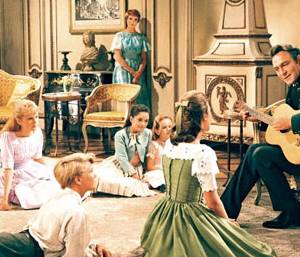 EVERAL WEEKS AGO, while I waited for my oldest son to finish his last Catechesis of the Good Shepherd class before the summer vacation began, I was speaking to several home schooling mothers in our parish about music. One asked when her child could enter our children's choir, then she made the usual comment that she herself couldn't sing. I gave my standard reply—if she couldn't sing, she wouldn't be able to talk.
Unfortunately, many mothers and fathers THINK they can't sing, and therefore don't sing to their children. Don't make this mistake because you will almost assuredly destroy much of your child's musical potential! Your voice doesn't have to be great to sing to your child, you just have to be willing to sing, no matter what.
How many of us want our children to get to Heaven, but because we aren't a saint on the caliber of St. Thomas Aquinas, St. Jean Vianney, Blessed Teresa of Calcutta, or Pope St. John Paul II don't even try to pass on the Faith to our children? Of course not; that would be ludicrous!
You can sing to your children everywhere, believe me, ask my children. Driving in the car, doing the dishes, pulling weeds, while in church, during family prayers, cleaning the house, walking around the neighborhood. (Yesterday, as my wife and I left Target, I intoned the Deus in adjutorium from the beginning of the Divine Office without thinking. There was a decent ring in Target's entry way.) My oldest son's favorite song is I've Been Working on the Railroad (he loves trains), but we sing everything, including children's songs, folk songs, funny songs we make up (or we change the lyrics of songs we know), hymns, chants, rounds, and even a version of the alphabet song in second species counterpoint (both major and minor) I made up trying to be funny—we just have fun while we do it. Don't deprive your children (and yourself!) of such a gift. I will admit I was very proud last week when my wife told me that she had the boys in the car headed somewhere around town when the oldest said, "Mommy, let's sing!"
Opinions by blog authors do not necessarily represent the views of Corpus Christi Watershed.