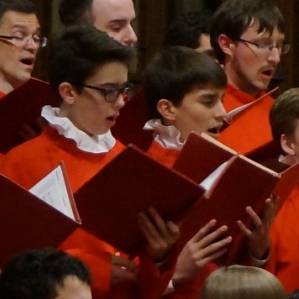 VERY FIRST CHOIR SCHOOL I ever visited was St. Thomas (Anglican) on 5th Avenue in New York City, where I attended their annual Choir Master Conference. David Hill, who once directed the music at Westminster Cathedral, led the workshop. As we arrived, we were invited into the choir stalls to observe Mr. Hill lead a full rehearsal of the men and boys prior to Choral Evensong.  The warm-up was beautiful (I could have listened to a concert of just that), but what came next struck me speechless. The first piece the choir sang was an Anglican psalm setting and it moved me to the very depths of my being (I am NOT an emotional person!). I had never heard a choir sing so beautifully, while at the same time communicate the text at such a profound level (one can hear them almost daily via their live broadcasts). Such is the power of music.
I enjoyed reading Richard Clark's recent post wherein he writes that beautiful music within the sacred liturgy is not merely a "frill," but an integral part of the liturgy. Speaking personally, beautiful sacred music moves me more than the most eloquent of homilies. I have a feeling this is true for many others. Perhaps if we invested in better music in our parishes (along side personal holiness in general) the Good New would be spread more effectively. Another reason for establishing a choir school.
Opinions by blog authors do not necessarily represent the views of Corpus Christi Watershed.