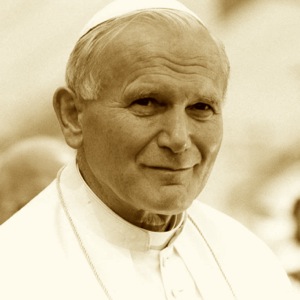 ASS IN HONOR of Pope Saint John Paul II" was recently featured on "Sounds from the Spires" on SIRIUS XM 129 Radio, The Catholic Channel.
I had the opportunity to speak with the program's host, Dr. Jennifer Pascual, Director of Music for Saint Patrick's Cathedral in New York City. In addition, special guest, Ryan Lynch, Director of Music and Organist at St. Raphael's Parish in Medford, MA joined the program to discuss the youth-propelled chant movement, the new economic model of publishing, and how it is reshaping the liturgical landscape.
• PODCAST • You can listen here to the program broadcast on 5.18.2014:

DOWNLOAD Complete Score (2.3 MG):
PDF • Mass in Honor of Pope Saint John Paul II (for Schola, Organ, SATB)
• Published with the approval for liturgical use by the Committee on Divine Worship, United States Conference of Catholic Bishops.
DOWNLOAD Unison/Organist Edition:
PDF • Mass in Honor of Pope Saint John Paul II (for Schola, Organ)
• Music from this broadcast:
"Mass in Honor of Pope St. John Paul II" | St. Cecilia Choir, Boston, MA
      YouTube:  Penitential Act C | Kyrie
      YouTube:  Gloria
      YouTube:  Sanctus
      YouTube:  Memorial Acclamation A
      YouTube:  Memorial Acclamation B
      YouTube:  Memorial Acclamation C
      YouTube:  Doxology, Amen
      YouTube:  Agnus Dei
      YouTube:  Christe qui lux es et dies | The Seraphim Singers, Jennifer Lester, Director
      YouTube:  St. Cecilia Day Variations | St. Cecilia Schola, Richard J. Clark, organ
E BRIEFLY DISCUSSED NEW PUBLICATIONS from two of the leading publishers in the chant/propers revival:
• Corpus Christi Watershed's St. Edmund Campion Missal and Hymnal for the Traditional Latin Mass and the brand new St. Isaac Jorgues Missal and Hymnal for the Ordinary Form. (15:25 & 24:05)
• Adam Bartlett's Lumen Christi Series from Illuminare Publications has recently released its Lumen Christi Simple Gradual which I have used for several Boston Archdiocesan and USCCB events. (25:50)