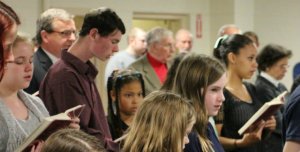 AVEN'T WE ALL HAD the experience of going to a supposed "youth Mass" only to find that most of the congregation consisted of Baby Boomers? It's an old method. In an effort to preserve the dying appeal of folksy liturgy, adherents re-package and brand it as something enticing to the youth. "It's for the kids"—who could resist such an argument?
But what sort of liturgy—and, particularly, what sort of sacred music—do young people really want? I can recall a few very fruitful discussions of this question: in a wonderful article about David Hughes' children's choir at World Youth Day, in a recent post of mine, as well as in this excellent post from Ben Yanke. Ultimately, there is not one catch-all response to the question of what young people want in liturgy. But it seems fair to say that the desire for truly sacred liturgical music is not simply a negligible niche in the larger youth market.
More evidence of this growing trend was published in a recent National Catholic Register article. Including interviews with three Catholic college professors, the article contends that there is a resurgence—a renaissance, if you will—afoot in our Catholic colleges in favor of traditional sacred music. According to Susan Treacy, there has been growth at both Ave Maria University and Franciscan University of Steubenville:
When I first started at Franciscan, not too many students knew what the Church teaches about sacred music. Gradually, that number increased, with more of them becoming aware of the Church's glorious musical traditions. This knowledge was usually accompanied by an appreciation of what the Church teaches, but not always."
Kurt Poterack, of Christendom College, expresses his hope for the future in this way:
We've made noteworthy progress, and I think as long as we stay focused and promote sacred music with charity, it will not only continue to grow in popularity at colleges, but it will become the accepted norm once again in parishes.
Dare we hope that he is right?
Opinions by blog authors do not necessarily represent the views of Corpus Christi Watershed.