LTHOUGH TRULY meaningful films are few and far between, there are some that are profound on both artistic and theological levels. Most of the films on my list have subtitles and are in black and white. It takes more effort to watch these movies, but they stick with you for a long time.
Here are my favorites in no particular order. They withstand repeated viewing because of their richness and complexity. Most of them are available through the Criterion Collection.
Please comment with your recommendations!
1. Jeux Interdits (1952). Two young children cope with the idea of death on a small farm in France during WWII. This is suitable for teens and adults.
2. Diary of a Country Priest (1951). Excellent film adaptation of the book. A young priest is stationed in a difficult parish and all he does seems to result in failure. A visual representation of spiritual turmoil. This is suitable for all ages, but children and teens may find it incomprehensible.
3. The Flowers of St. Francis (1950). A series of vignettes that are of such purity and charm that they come very close to the spirit of the written version. This is suitable for all ages.
4. The Seventh Seal (1957). A Swedish fantasy drama about the meaning of life. This is suitable for all ages, but I don't think children would enjoy it.
5. Black Narcissus (1947). An incredible novel by Rumer Godden that follows the story of a group of Anglican nuns who attempt to found a mission in India. The intoxicating landscape attacks each of the nuns differently. This film is suitable for adults.
6. La Grande Illusion (1937). A film by Jean Renoir that questions war via a dialogue by a cast of complex characters. Suitable for all ages, but only appreciated by adults.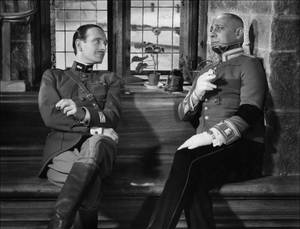 7. The Ninth Day (2004). The story of a Priest who is on leave from a concentration camp for nine days. Each day he must converse with a young Nazi officer on the topics of good and evil. Suitable for teens and adults.
8. The River (1951). Startlingly beautiful yet brutally unexpected film adaptation of Rumer Godden's coming of age novel of a British girl in India. Suitable for adults.
9. The Mission (1986). Two Spanish Jesuits work in a South American mission and must defend them. Suitable for adults.
10. Pickpocket (1959). Interesting portrait of a man who flirts with temptation and almost loses his identity. Visually exquisite. N.B. The little girl from Diary of a Country Priest plays an adult in this film. Suitable for teens and adults.
11. Whistle Down the Wind (1961). When an injured wife murderer takes refuge on a remote Lancashire farm, the owners three children mistakenly believe him to be the Second Coming of Christ. This is suitable for children.
12. Angels with Dirty Faces (1938). A priest tries to stop a gangster from corrupting a group of street kids. This film is suitable for children.
Opinions by blog authors do not necessarily represent the views of Corpus Christi Watershed.