NE OF AMERICA's landmark pipe organs, the E. & G. G. Hook & Hastings Organ, Opus 801 in Boston's Cathedral of the Holy Cross has been silent for over two years. Affectionately known as "801," this organ with over 5,300 pipes and 101 ranks was protected from construction dust during a nearly two-year renovation of the Cathedral. It was last heard in concert in May of 2017.
Leo Abbott, Music Director and Organist Emeritus of the Cathedral of the Holy Cross will play the first post-renovation concert on Sunday, September 15, 2019 at 3:00pm. He'll perform works by Langlais, Bach, Mendelssohn, Franck, Guridi, Vierne, and Vexilla Regis Prodeunt (1995) by Naji Hakim, commissioned by Leo Abbott.
• Admission is Free. Donations are gratefully accepted for the ongoing maintenance and restoration of the Cathedral's historic E. & G. G. Hook and Hastings Opus 801
• Download the concert poster here.
• Click here for concert program and specifications of the 101-rank E. & G. G. Hook & Hastings Organ, Opus 801
• Click here to read an historic review of the Organ Dedication concert (1876) published in "THE GRAND ORGAN." Boston Daily Advertiser, February 24, 1876.
With the removal of carpeting and installation of marble and stone floors, the acoustic of the cathedral has been transformed. As such, the instrument will be heard as it has never been in our lifetimes.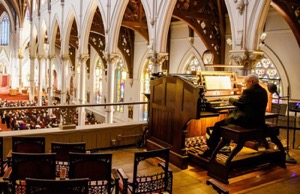 URING THE CATHEDRAL RENOVATION, some key ranks of pipes were cleaned and restored—Great reeds 16', 8', & 4' and 8' Tuba. However, the vast bulk of the organ's restoration occurred before the Cathedral's renovation under Leo Abbott's tenure and direction.
In 1986, when Abbott was named Director of Music and Organist of the Cathedral of the Holy Cross, the pipe organ was essentially unplayable. Abbott nearly singlehandedly raised all the funds over a period of many years. His work has been a tireless labor of love. He generously invited so many organists to perform. I am personally grateful, having lost track how many of my compositions were premiered at the Cathedral. Leo was of enormous personal support. I owe him an eternal debt as do all of us who are devoted to sacred music.
• You can read a fascinating article by Josiah Fisk about Abbott and his tireless drive to renovate this instrument here.
CONSIDER DONATING TO THE CATHEDRAL ORGAN RESTORATION FUND!
You can now donate online to the Cathedral Organ Restoration Fund here. You will receive an automated letter for tax purposes. You may also set up regular giving to assist with maintenance and tuning. Even $10 per month is a big help! This Fund was established by Leo Abbott in 1987 in memory of his father, Arthur J. Abbott.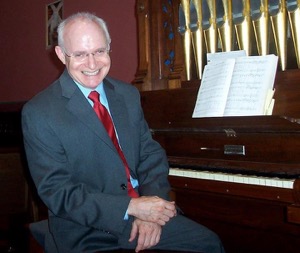 EO ABBOTT is a graduate of the St. Paul Choir School, Cambridge, and the Chaloff School of Music, Boston. His teachers include Theodore Marier, George Faxon, Clarence Watters and Flor Peeters, in organ; Naji Hakim in improvisation, and Julius Chaloff in piano. He holds the Fellowship and ChoirMaster Certificates of the American Guild of Organists, has won first prize in several international and national competitions, and was a finalist at the "Grand Prix de Chartres" in 1984.
In 1986 he was appointed Music Director and Organist of the Cathedral of the Holy Cross, Boston. After nearly 33 years, Mr. Abbott retired from the Cathedral, and was given the title of Music Director and Organist Emeritus. Mr. Abbott has performed for conventions of the American Guild of Organists and the Organ Historical Society, and at the Basilica of Sacré Coeur, St Sulpice and Notre-Dame Cathedral, Paris, St. Ouen, Rouen, Westminster Cathedral, London, Galway Cathedral, the Basilica of the National Shrine of the Immaculate Conception, Washington, DC, St. Patrick's Cathedral, New York, Methuen Memorial Music Hall, Portland City Hall, Harvard University, Grace Cathedral and St. Mary's Cathedral, San Francisco, Cathedral of the Madeleine, Salt Lake City, and Sacred Heart Cathedral, Newark. He is an active member of the American Guild of Organists, the Organ Historical Society.
Opinions by blog authors do not necessarily represent the views of Corpus Christi Watershed.