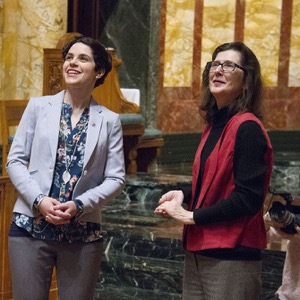 ATHOLIC TV's thirteen-part series "On a Sacred Note" recently featured the episode "Music for the Pipe Organ." Host Stephanie Scogna picked one of Boston's most extraordinary musicians, Janet Hunt. Hunt is the Director of Music at St. John Seminary in Brighton, Massachusetts where she plays the beautiful Hook & Hastings — 1902, Opus 1833 restored by the Andover Organ Company in 2015. She is also an extraordinary harpsichordist and editor of 17th Century Sacred motets.
• Watch here in HD: Music for the Pipe Organ (Scroll down to see an archive of all the shows in the series aired to date.)
This wonderful interview with Hunt both greatly illustrative of the indispensable role of a real pipe organ. Making the case for the affordability for a real pipe organ, Hunt quite wittily breaks down the cost of maintaining a pipe organ as compared with the typical parish budget on flowers. Brilliant!
After her interview, Janet Hunt also performs Dupré and Buxtehude live on the program. You can also watch her performances at St. John Seminary here:
• On a Sacred Note airs (HD) on Mon. 8:30 A.M., Tue. 8:30 P.M., Fri. 12 A.M., and Sat. 5 P.M. (All Eastern times) Beginning June 4, 2018, there will be a new episode each week.
• In addition to cable, Catholic TV is available on several streaming platforms. Chick here for various ways to watch. You can also get more information at CatholicTV.org.
Opinions by blog authors do not necessarily represent the views of Corpus Christi Watershed.