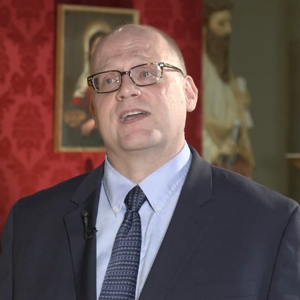 'VE BEEN CATCHING UP with the Catholic TV Network's series "On a Sacred Note" launched in June. Hosted by Stephanie Scogna (Artistic Director, Boston Art Song Society), the series explores over a millennium of music history through present-day genres and experiences. Scogna tackles subjects from Gregorian Chant to Navigating Vatican II on the parish level.
• WATCH EPISODE 1 with Michael Olbash Director of Music, St. Adelaide Parish, Peabody, Mass: How It Started | Gregorian Chant | Monophony (Scroll down to see an archive of all the shows in the series aired to date.)
Watch another episode with Michael Olbash here as they discuss this hot topic: Vatican II and the Vernacular Novus Ordo Part — Covering musical style changes after the Second Vatican Council.
• The show airs (HD) on Mon. 8:30 A.M., Tue. 8:30 P.M., Fri. 12 A.M., and Sat. 5 P.M. (All Eastern times) Beginning June 4, 2018, there will be a new episode each week.
• In addition to cable, Catholic TV is available on several streaming platforms. Chick here for various ways to watch. You can also get more information at CatholicTV.org.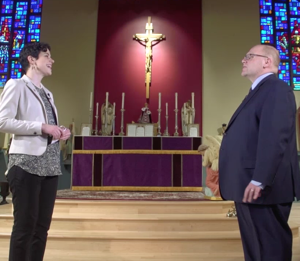 HESE SHOWS ARE AN EXTRAORDINARY resource for laypersons and musicians alike who wish to learn an overview of the Church's vast history and treasury of sacred music. It is also a great resource for children and adults to round out their appreciation and understanding of the role of music in prayer, as well as its influence on all of Western music! (My eight-year-old son and I have watched and listened together!)
The shows feature a different compelling topic each week, beginning with simple and easily understandable explanations by host Stephanie Scogna. This is followed up by interviews with various musicians and concludes with superlative musical examples sung by the The Brookline Consort. You can listen to the many of their musical performances from the show on YouTube here.
It's a musical and prayerful feast!
Opinions by blog authors do not necessarily represent the views of Corpus Christi Watershed.