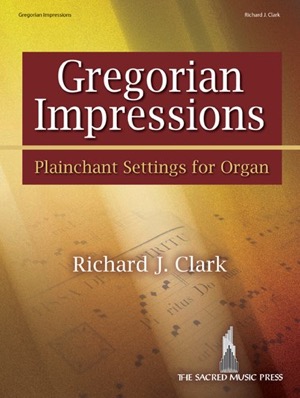 BRAND NEW release from The Sacred Music Press/The Lorenz Corporation, Gregorian Impressions is a collection of organ works based on familiar and beloved plainchants.
Shifting in character, they are designed to accommodate a variety of liturgical or concert circumstances. At the very least, this music can be performed on a two manual instrument with limited ranks. However, colorful registration, especially in animating chant melodies is encouraged on instruments with larger resources.
With intense dynamic and expressive intent, this collection cries out for the pipe organ to breathe and to sing.
• View Sample pages and Forward with notes on registration here.
• Order Score: Gregorian Impressions • Plainchant Settings for Organ
      YouTube:  I. Pange lingua
      YouTube:  II. Adoro te devote
      YouTube:  III. Jesu dulcis memoria
      YouTube:  IV. Ubi caritas
      YouTube:  V. O filii et filiae
      YouTube:  VI. Veni, creator Spiritus
      YouTube:  VII. Ave Maria
• Tracks 1, & 3-7 were recorded on the 1999 Smith & Gilbert Organ (IV/54), Saint Cecilia Church, Boston, MA.
• Track 2 was recorded on the D. A. Flentrop (I/8) at Saint Mary's Chapel, Boston College, Chestnut Hill, MA.

PLAYLIST: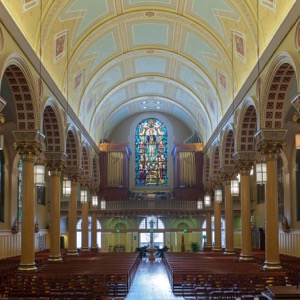 OWE A GREAT debt to Timothy E. Smith and Theodore Gilbert, builders of a unique instrument. Featured at several concerts during the 2014 National Convention of the American Guild of Organists and celebrated by the Boston Music Intelligencer as "Cavaillé-Coll-esque," it is situated in one of the most glorious (and useful) acoustics in New England.
To the casual listener it is somewhat notorious for its power. But noted by every distinguished organist is the warmth and richness of its foundations and strings (voiced by Theodore Gilbert). More recent additions to the instrument by Timothy E. Smith have only added to the array of richness and color, seamlessly complimenting ranks with Gilbert's voicing.
Such richness and warmth is certainly on display in these recordings, e.g., the introduction and coda of Veni, creator Spiritus or the building up of foundation stops and reeds on Jesu dulcis memoria.
None of this begins to speak of the highly pragmatic liturgical design of the instrument: foundation stops that speak clearly into the nave to support congregational singing, dynamic flexibility to accompany soloists, choral works, and chant, and an antiphonal division that unites a 19th Century architecture with the 21st Century liturgy. All of these necessary elements are the design and vision of Timothy E. Smith.
Finally, what is quite special to me, is not always the full array of the organ, but the quiet moments of reflection while composing and improvising. A few soft 8' stops speak into an empty and darkened sanctuary, expressing most exactly what I ask. I thank God for an abundance of these moments for nearly twenty years. Such moments of musical and prayerful sanctuary have saved my life.
Soli Deo gloria
Opinions by blog authors do not necessarily represent the views of Corpus Christi Watershed.