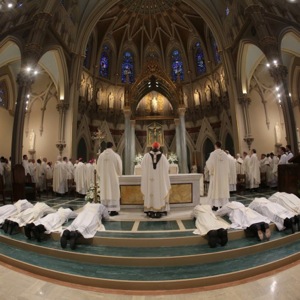 ITH MANY ordinations taking place this time of year, it is a blessed time for the entire Church.
The Introit chant for the ordination of priests from the Graduale Romanum is Sacerdotes Dei, benedicite (Mode VI). It is a beautiful way to begin the long procession of ordinandi and priests, perhaps followed up by a hymn and organ improvisation. (It doesn't get any more fun that that.)
Below is a practice video with the Gregorian notation, which may be useful for Diocesan choirs that include additional amateur singers. This was recorded at the 2017 Presbyteral Ordination for the Archdiocese of Boston (audio was taken from the video feed—forgive the initial fade in). You'll note the Alleluias are included which are sung during the Easter Season.
The text is a beautiful prayer for for all and for the ordinandi:
Daniel 3: 84, 8 • Priests of God, bless the Lord, praise the Lord all who are holy and humble of heart. Alleluia. Ps V 57: Bless the Lord, all you works of the Lord, praise and exalt him above all forever.
      * *  DOWNLOAD Sacerdotes Dei, benedicite • Gregorian notation
      * *  DOWNLOAD Sacerdotes Dei, benedicite • Modern notation
I chose to have men and women sing in unison for a brighter sound, to create a more energetic pronouncement, especially in a relatively dry acoustic. Marc Demille beautifully intoned the verses:

Please pray for all ordinandi! What we do is not simply "important" music for an "important" Mass. This is a day that the newly ordained will carry in their hearts for the rest of their lives. Not only what we sing, but how we sing will have spiritual impact beyond a nice memory. It will help shape their formation, and as such shape the Church.
Opinions by blog authors do not necessarily represent the views of Corpus Christi Watershed.