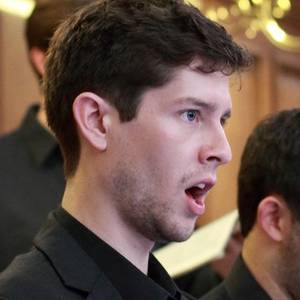 F MORE CHOIR MASTERS were honest with themselves, they would probably acknowledge that no more than 25 to 40 percent of their singers are actually leaders within their choirs. This is not meant to disparage the many fine choristers who dutifully rehearse and sing weekly, but to find ways to help each one become a leader in his own right, or at the very least, to become a little better this week than he was the last. Not only would this raise a choir's general capabilities, but it would also build confidence and willingness in each singer. They will WANT to accomplish what you ask.
Over the next few weeks I want look at ways you can help your choir grow vocally, starting with breathing, but before I go any farther I would encourage you to take private voice lessons if you haven't before. This is the best thing you can do vocally for your choir.
James Jordan, the well know choral clinician, is adamant that the best way to help your choir members grow vocally is to get them to be aware of what it is they are doing. This means the difference between each individual singer riding as a passenger in a school bus and being at the wheel of a racing car. You want your choir to be filled with drivers, not passengers, and this starts with singers being aware of the way their instrument works. The voice is a wind instrument, which makes breathing of paramount importance, but don't fool yourself into thinking this is an overly technical process.
The incomparable William Finn, in his Art of the Choral Conductor (24-25), finds ridiculous the "innumerable monographs and dissertations [that] have been written on the alleged art of breathing." Rather, the "average child and adult generally breathe correctly, otherwise the human race would long since have become extinct. But under the stress of self-consciousness, both children and adults are likely to show two faults: first, they raise the shoulders while inhaling; second, nervously or through inadvertence, they permit the breath to be exhaled too suddenly." Your goal as a choir master is to teach your singers to breath as deeply as possible while the shoulders are down and relaxed. Ask each singer to lie flat on the floor and simply breathe (it is almost impossible to breath incorrectly in this position). As soon as each singer becomes aware of this natural state of breathing he can arise and apply the knowledge to singing while standing. You will need to practice this with your choir members for a number of weeks before it becomes second nature. Then you will have to hold them to it.
Another way singers experience proper breathing (especially if they would rather not lie on the floor) is to slowly breathe out until all air is spent and then relax the body. As the diaphragm returns to its normal position it will draw the breath deeply into the body, almost as if it were filling the stomach.
Once your singers become aware of breathing naturally, your task will be to connect that knowledge to the act of drawing breath and then releasing it slowly as they sing. Ask your singers to breath in deeply over the course of 4 counts and then slowly release the air for 8, 12, 16 or even 20 counts. Eventually they should release the air by humming and singing on neutral syllables, such as oo. Most singers will be able to sustain a note for 8 or 12 counts, but it will take practice before they can work up to 16 and 20 counts. The idea is to slowly release the air as opposed to allowing it to "fall" out.
Supposedly old Italian singing masters asked their students to sing in front of a mirror in a cold room. If the mirror fogged over, it meant the student was using too much air. Likewise, they would ask their pupils to sing in front of a lit candle. If the flame flickered during the aria, it meant the singer was releasing too much air. I have often asked singers to hold a finger in front of their mouths and pretend it was a candle and to imagine not allowing the flame to flicker as they sang. This has had a profound affect on their singing. It is important to note that pushing more air through the vocal apparatus does not mean louder singing, but husky singing, which is never pleasant in church music (or anywhere else).
I should also make a general note about singing posture. Ask your choir members to sing with an athletic posture; neither stiff like a soldier nor drooping like the slouch. Keep the feet slightly apart and under the shoulders with knees slightly bent and the head tall above the shoulders. Remember that good singing is 90 percent mental and encourage them to expand their awareness to other aspects of their singing. They will notice the difference in their sound and so will the congregation.
Opinions by blog authors do not necessarily represent the views of Corpus Christi Watershed.