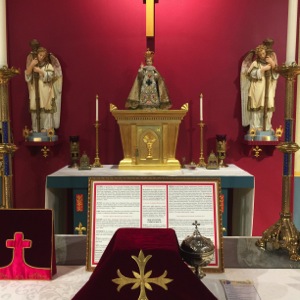 ITURGICAL FORMATION is vital for spiritual formation, which is why this conference is well worth attending! This year, the Culmen Et Fons Conference will be held at St. Adelaide's Church, West Peabody, Massachusetts, from September 18-22 and will be hosted by Michael Olbash.
Register for the conference here.
From the conference website:
"Recognizing the critical need of enhanced liturgical and spiritual formation for both clergy and lay faithful, the organizers, presenters, hosts, sponsors, and delegates of the September 2017 Conference On Liturgical Formation seek to address precisely such a fundamental requirement for the vitality and vigor of the Church. The scope and the topics of the conference correspond precisely to the needs set out with characteristic clarity by Cardinal Robert Sarah, Prefect of the Congregation for Divine Worship and the Discipline of the Sacraments in his 2016 London Address and in his remarks made in June 2017 at the Sacra Liturgia conference in Milan, Italy.
The principal speaker, Dom Alcuin Reid, will present papers on such topics as "The Spirit and Power of the Liturgy," "The Liturgical Life of the Priest, the Liturgical Formation of the Laity," and "Ongoing Liturgical Formation." Father Thomas Kocik, a priest of Fall River, Massachusetts and author of The Reform of the Reform, will discuss "The Mutual Enrichment of the Two Forms of the Roman Rite." Father Marco Testa, a priest of Toronto, Canada, will treat "The Elevation of Parish Liturgy through Plainchant and Sacred Polyphony." Fr Neil J. Roy will address the means by which priests can form and prepare themselves for offering Mass according to the usus antiquior."
Michael Olbash also writes:
I'm thrilled to be hosting the inaugural Culmen et Fons conference at St. Adelaide's because I believe we have an important story to share. It is a fitting study of what Fr. Kocik calls "The Mutual Influence of the Two Forms of the Roman Rite on Each Other" in action. In the past decade, the parish has seen an astonishing increase in Mass attendance and financial stewardship owing in large part to the addition of a weekly traditional Latin Missa Cantata, use of handcrafted Roman vestments, emphasis on sacred music, and the acquisition of dozens of statues, paintings, and liturgical furnishings, many of which were adopted from merged or suppressed parishes
The success of St. Adelaide's Parish in recent years is unquestionable. Parishes should take note that liturgical formation has lead not only to spiritual renewal, but on a pragmatic level, increased attendance and financial donations. Heeding the Church's traditions and placing Christ at the center will always be the cornerstone of true evangelization.
Soli Deo Gloria
Opinions by blog authors do not necessarily represent the views of Corpus Christi Watershed.