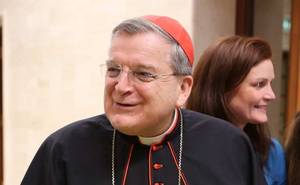 AST THURSDAY, the Feast of St. Cyril of Alexandria, the Most Pure Heart of Mary Schola Cantorum was blessed to sing for a Pontifical Low Mass celebrated by H.E. Raymond Cardinal Burke at the Church of St. Anthony-St. Mary in Kansas City, KS. This was the first time the choir sang for Holy Mass celebrated according to the Ancient Latin Rite, and to be honest, I was a bit nervous about what all the children would think. In the end, the choristers gave the Lord some of the best singing they have ever produced and the Mass prompted one of the choristers to ask last Sunday if they could use the Communion Rail in our own parish from now on to receive Holy Communion (I took a poll and all the choristers save one wanted to continue the practice). We shall see what the future brings in that regard.
For my own part, I have sung for and lead numerous choirs singing sung Masses in the Extraordinary Form, but never Low Masses (this Mass being the first). The Schola Cantorum sang Tallis' If Ye Love Me before Mass, Grieg's Ave Maris Stella during the Offertory, the traditional chant Adorote devote, Messiaen's O sacrum convivium and Mawby's Ave verum corpus during Holy Communion and Holy God, We Praise Thy Name for the Recessional, immediately followed by Scarlatti's Exultate Deo. My assistant, Mr. John Deahl, provided beautiful organ improvisations. While the choir sang everything very well, I have to admit that I missed singing the Ordinary and Propers of the Mass. It made me realize how much more I prefer singing the Mass instead of singing at the Mass, whether or not the Ordinary or Extraordinary Form. Nevertheless, I told Cardinal Burke that is was a blessing for us to sing for the Mass and assured him of our prayers. He graciously joined us for a picture, which I would like to share with everyone here.
Opinions by blog authors do not necessarily represent the views of Corpus Christi Watershed.