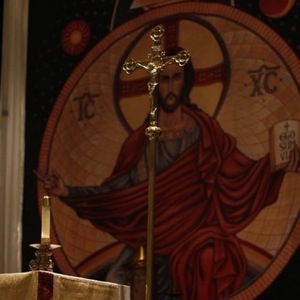 HIS ISN'T ABOUT chant. This isn't about a style of music. This is about scripture. This is about prayer. This is about vocations.
The National Conference of Diocesan Vocations Directors (NCDVD) recently held its fifty-third annual convention in Boston. A gathering of approximately three hundred priests, nuns, and laity, its daily schedule was appropriately anchored in prayer: Lauds, Vespers, and Mass. This is no small matter. All service to God is best supported and sustained by prayer—hence the great importance of preparing beautiful liturgies.
Notable in all the liturgies was the predominance of Gregorian Chant in Latin as well as new settings in English of the Entrance and Communion Chants. For a national event, one would surmise that few experience liturgies like these on a regular basis. However, from the incredibly robust singing, who would not know it? Whether in English or Latin, modern or Gregorian notation, it mattered not. Credo III in Latin and Gregorian notation? Not a problem. Nor was anything else.
Again, this is not about chant or a style of music. Roman Catholic sacred music is rooted entirely in scripture. This is most obvious in the Liturgy of the Hours. Using Fr. Samuel Weber's settings, any novice to chant could pray the scriptures. While some hymns were sung at Mass, they were secondary to singing the Mass.
It was decided to use contemporary settings of the Entrance and Communion chants in English as a bridge and an element of catechesis. Sung were settings by Christoph Tietze and Adam Bartlett, plus some settings of my own for the optional memorials.
Here is a sample from one liturgy: (Forgive the recording with an iPhone near the organ.) Note the singing grows dramatically with each repetition of the antiphon:
      * *  Mp3 Download • Adam Bartlett's Entrance Antiphon • 27th Sunday (Lumen Christi Missal)
Instead of an organ prelude, we sang the corresponding Introit from the Graduale Romanum as a matter of connecting the contemporary settings with our ancient roots.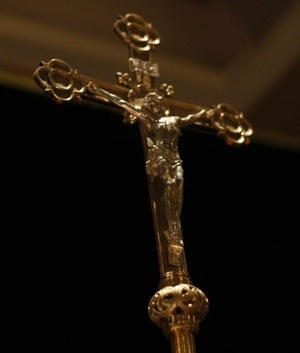 ITURGIES IN HOTELS are always a challenge. But the primacy of chant created a prayerful and reverent environment in a challenging space. Whether this was everyone's favorite music or not was not the point. I'm sure for many it was not. Most conferences attempt to please the diversity of people present—a difficult to impossible task. But here, the simplicity of the music leant to its prayerfulness.
But this week in Boston, praying for the success of vocation directors was paramount. Everyone recognizes the urgency we face across the country with regard to vocations.
Once again, none of this is about chant. Preached from the sanctuary multiple times was this reminder: success for vocation directors is not simply about numbers. It is about quality. For only Jesus can call men and women to religious life. Success is in how well we respond to God's call, and how well we assist those in their formation.
OU MAY BE SURPRISED to see that actor and Boston native, Mark Wahlberg created a video to welcome those in attendance at the conference. His reflections on the sacraments and the importance of good priests in his life are beyond beautiful. You can read about it and watch the video here in The Pilot.
Such events take an enormous amount of teamwork and support. Fr. Jason Jalbert, Bishop's Priest Secretary Office of Vocations/Sacred Worship in the Diocese of Manchester put in untold hours to make the liturgies beautiful and sacred. Organ builder Richard Pelland graciously donated the use of a Makin Thirlemere digital organ, which was key to the success of the liturgies, keeping three hundred voices in a very dry space together. Enormous thanks is due to cantor Marc DeMille who sings the scriptures so prayerfully. In addition, organist Ryan Lynch was of great assistance. Dr. Janet Hunt directed the seminarians of St. John's Seminary in Boston in a special Mass with Cardinal O'Malley.
I am personally very grateful to have had the honor of praying with so many this week. it transformed me. My hope is that this past week's conference and prayer will transform countless lives in ways we may never know.
Soli Deo gloria
Opinions by blog authors do not necessarily represent the views of Corpus Christi Watershed.