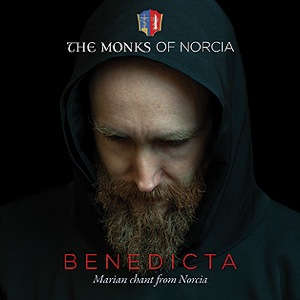 EER BREWING Benedictine Monks from Norcia, Italy, just released their unique CD of Marian chants mostly from the Divine Office. Directed by Choirmaster Basil Nixen, it was produced by eleven time Grammy Award winner Christopher Adler. In its debut, it has reached #1 on the Classical Billboard Charts, and Top 35 overall in iTunes.
It was released by De Montfort Music, the sister company to AimHigher Recordings that brought us the Top 5 Billboard CD, St. Paul's Christmas in Harvard Square. Perhaps the recent commercial success of sacred music is indicative of humanity's natural hunger for transcendent union with the Divine. This CD certainly brings prayerful tranquility to those who listen.
      * *  Order the CD here: BENEDICTA: Marian Chant from Norcia You can also view the track list and listen to samples. It is also available on iTunes.
UITE REMARKABLY, THE AVERAGE AGE of the monks in Norcia is only 33. Furthermore, Norica is the birthplace of St. Benedict and his twin sister, Scholastica. Despite this, the town had not had a monastery for nearly two hundred years; the monastery was suppressed during the Napoleonic era. So in 2000, the local bishop invited the monks—located in Rome—to establish a monastery in Norcia under Prior, Fr. Cassian Folsom.
Fr. Folsom, a Massachusetts native, studied music at Indiana University. He discusses the very ordinary routine life of the monks of prayer and work. Singing the Divine Office and mass, Fr. Folsom says, "Music, for the monastic life, is an essential part of our prayer…Chant is part of the air we breathe." Producer Christopher Adler also notes that this music is not simply for pleasure, but a necessary part of the fabric of their everyday lives. "You can hear that in the sincerity of their singing." Furthermore, Adler states, "It has something eternal to it…you don't feel it will ever go out of date."
      * *  You can listen to a special interview on NPR's Weekend Edition and NPR Music with the Prior and Founder of The Monks of Norcia here.
      * *   You can learn more about their beer, Birra Nursia, here.
Opinions by blog authors do not necessarily represent the views of Corpus Christi Watershed.