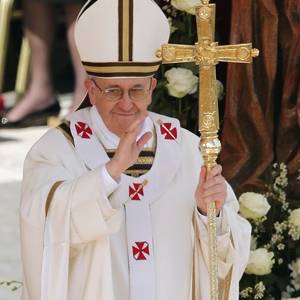 RECENTLY POSTED about the exciting news that this fall our parish school (Most Pure Heart of Mary) will become the third Catholic choir school in the US. The choir, the Most Pure Heart of Mary Schola Cantorum is already becoming a fine choir and regularly sing works by Palestrina, Byrd, Tallis, Victoria and Gregorian chant, as well as sacred music from the modern era. As I previously recounted, the choir received an invitation from the Foundation for Music and the Sacred Arts (Vatican) to travel to Rome in January 2016 to participate in the very first Children's Festival for Epiphany. The choir will join the Sistine Chapel Choir, along with a number of other children choirs, to sing for Pope Francis' Mass on January 6.
As you can imagine, the choristers are very excited! Fundraising is already underway with more than a quarter of the trip already paid for. However, we have a number of families with two, three and even four children in the choir whose job is even more difficult than the rest. The trip to Rome costs each chorister approximately 70 cents per mile. If you or someone you know would be interested in funding a scholarship either in full or in part for one of the choristers, please feel free to donate safely here, or send your donation to
Most Pure Heart of Mary Schola Cantorum
1800 SW Stone Avenue
Topeka, KS 66604
Those who donate $50 or more will receive a complimentary copy of the Schola Cantorum's Christmas CD. Not only will you be helping to give a chorister a pilgrimage of a life time, you will also be contributing toward the growth of the newest choir school in the United States. The entire Most Pure Heart of Mary Schola Cantorum thanks you!
Opinions by blog authors do not necessarily represent the views of Corpus Christi Watershed.