Bernardo Cavallino, "Martyrdom of St. Stephen." c. 1645. Oil on canvas, 70 cm x 90 cm.
HE FEAST DAYS following Christmas all recognize rather bloody saints. According to Dom Gueranger's Liturgical Year, "The ones we see standing round the Crib of our Jesus are Martyrs: Stephen, overwhelmed with the shower of stones; John the Martyr in heart, who survived his fiery torture; the Holy Innocents, massacred by the sword; Thomas, murdered in his cathedral; these are the champions of Christ, who keep guard in the palace of Bethlehem."
I never understood why so many martyrs were recognized during Christmastide until I read Dom Gueranger's intriguing meditation. He writes, "Jesus, whilst still continuing to be the eternal God, assumed to himself the lowly raiment of flesh, and entered the battle-field of this world; Stephen, laying aside the perishable garment of the body, ascended to the palace of heaven, there to reign for ever."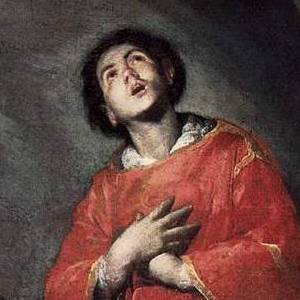 Gueranger continues, "…Martyrdom is the creature's testimony and return to his Creator for all the favours bestowed upon him: it is Man testifying, even by shedding his blood, to the truths which God has revealed to the world."
Reading these words gave me new eyes to appreciate the painting of St. Stephen by Bernardo Cavallino. In Cavallino's version, the things of this world are already fading into darkness for St. Stephen. His eyes no longer perceive his aggressors, instead they are directed heavenward. We cannot see what he sees, but his intensely scarlet dalmatic gives us an inkling of the heavenly raiment which he will soon don.
Opinions by blog authors do not necessarily represent the views of Corpus Christi Watershed.