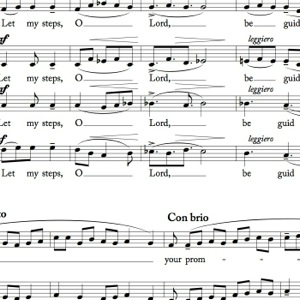 HRIS MUELLER is an astonishingly prolific composer, director and performer. His extraordinary musicianship comes to mind as a natural follow-up to my to my Challenge for the "Big Three" – Is there a Market for the Propers?
Heard on NPR, EWTN, and at the 2012 Sacred Music Colloquium, his Missa pro editione tertia, is perhaps already familiar to many of you.
From his own website:
Appointed in February, 2012 as the Director of Music for the Basilica of St. John the Evangelist in Stamford, CT, and following 12 1/2 years as the Director of Music for the Church of Notre Dame, Christopher Mueller (pronounced "miller") conducts Gregorian chant and sacred Renaissance polyphony for the 12:00 p.m. Mass late on Sunday mornings. He has composed over 200 sacred choral works, the bulk of which were written for parish liturgies. Many, though not all of them, are settings of Gregorian chants – for instance, there is a nearly complete cycle of the Sunday Introits.
VERY UNIQUE COLLECTION is his quickly growing set of free-composed English Offertory propers. Many of them are available for purchase on his website and you can click on "Audio Samples" to hear some of them. I hope he publishes a collection of his works—most likely in several volumes!
In the past year, I have had the privilege of previewing a large number of his Offertories. While Mr. Mueller refers to them as "miniatures" they are only modest in length, but not in treatment. Each is unique and made fully alive in the text it serves. They are short enough to be accessible for many parish choirs, but reveal a depth of character that gives them lasting power. He has developed a voice all of his own, a voice that greatly serves the liturgy in beauty and in prayer.
One can spend a great deal of time on his website listening and learning. It is perhaps just a small testament of a lifetime of commitment to producing music that is sacred, beautiful and universal. His stamina and commitment are exactly what the Church needs. I don't believe he will stop anytime soon!
Opinions by blog authors do not necessarily represent the views of Corpus Christi Watershed.