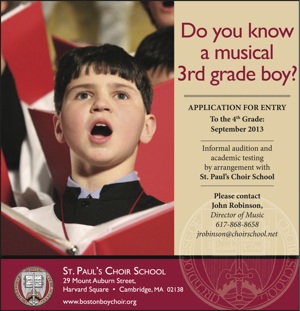 OHN ROBINSON, Director of Music at St. Paul's Church, Harvard Square, leads the only Roman Catholic boys' choir school in the United States, founded in 1963 by Dr. Theodore Marier. Formerly known as the "Boston Archdiocesan Choir School" this veritable institution recently reclaimed its original name, the "St. Paul's Choir School, Harvard Square." Learn more about the school here.
The St. Paul Choir School is now looking for talented third grade boys to apply and audition for entry in September of 2013.
PDF • Download information here!
• Videos here are from a recent performance at St. Cecilia Church, Boston
The boys receive their formal education from grades 4-8. They sing at daily mass, Sunday liturgies, as well as concerts and special events. In service of the liturgies, the choir of boys and men (known as "The Choir of St. Paul's, Harvard Square") perform music ranging from Gregorian Chant to Modern and contemporary repertoire. As John Robinson states, "The daily round of sung liturgy provides the perfect training ground for young singers."
Having just completed his third year at St. Paul's, John Robinson describes the choir as "very much a work in progress." A very modest and unassuming man, his aim is high. He looks at his time at St. Paul's as a long-term ministry, building upon the past and moving forward. From his vision of developing a cultured sound of the choir to improving and maximizing the liturgical space and its pipe organs, Mr. Robinson moves and thinks on many levels, all for the betterment of the boys' education and the Church's liturgical life.
Despite his young age, Mr. Robinson brings an extraordinary body of experience from his work education in England. A chorister and pupil of Dr. Roy Massey at Hereford Cathedral, John was also Organ Scholar at Canterbury Cathedral and then at St. John's College Cambridge where he accompanied this world-famous choir on tours, recordings, and broadcasts. (Read his entire bio here.)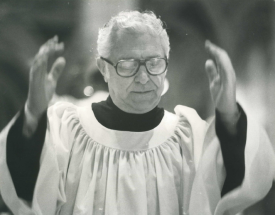 N ANOTHER NOTE, Mr. Robinson has inherited the unenviable task of holding in his hands the legacy of Dr. Marier. The new English translation of the Roman Missal presented immediate challenges, requiring his studied revision of Dr. Marier's mass settings, while remaining as true to them as possible. (The decision could have been made to do away with them completely, but such is the importance of Dr. Marier's groundbreaking works.) Furthermore, there is the ongoing question of if and what to do about the landmark St. Paul's Hymnal, "Hymns, Psalms, and Spiritual Canticles." (1972, 1974) A wonderful resource, but long out of date in so many respects, a new edition of the hymnal has been desired and discussed for well over a decade. It presents a daunting challenge.
John Robinson's view on this, from what I can gather, is a carefully studied and musicological approach. Hymn selections and harmonizations certainly need to be reevaluated. The best of Dr. Marier's works will clearly live on. (I suspect, if reissued, a new "St. Paul's Hymnal" will look a great deal differently than the first edition. After nearly forty years, it must!)
Yet, this is a new age and a new time. John Robinson brings a new world of ideas and energy. It perhaps has shaken up this New England institution: the renewed energy from this choir is evident after three short years under his direction. Its sound has greatly evolved during this time. The choice of John Robinson as director was clearly a non-provincial choice—an esteemed New England institution looking for renewal and for a new direction.
So, as the St. Paul Choir returns to the original name of its founder, Dr. Theodore Marier, it brings one to ponder: Why did Dr. Marier found the choir school in the first place? Certainly, it was first and foremost for the education of the children and, the choir itself, for glory of God alone. That he persisted and adapted—that the school thrived during the post-Vatican II years, and enjoyed unparalleled continuity through John Dunn's extraordinary direction, is a testament to Dr. Marier's energetic vision. (This continuity cannot be undervalued!) Dr. Marier would be the first to point out that the Church's treasury of sacred music is exceedingly vast and far greater than any one man. Yet, we continue to harvest the seed Dr. Marier planted.
However, over fifty years later, that it still remains the only Roman Catholic boy's choir school in the United States (and that it is only one of two R.C. choir schools in the country) would perhaps be unfortunate in Dr. Marier's view. I am sure he would want many more institutions like this in the United States. Gregory Glenn, director of the extraordinary Madeleine Choir School cried out at the 2012 CMAA Sacred Music Colloquium, "We need more institutions!" And such institutions need concrete support and vision!
Meanwhile, if your child is a talented third grader in New England, please consider this wonderful school in Cambridge, Massachusetts. It is an extraordinarily unique Catholic education not to be taken for granted. The St. Paul Choir School, grounded in Roman Catholic tradition, while staring the future directly in the eye, appears only to be looking up.
Soli Deo Gloria!
Opinions by blog authors do not necessarily represent the views of Corpus Christi Watershed.