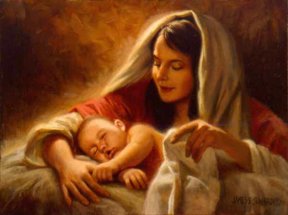 DVENT IS MY FAVORITE SEASON. Bar none, I like Advent better than any other liturgical season. I like the waiting, the stillness, the longing anticipation; I like the interplay of light and darkness, hope and anxiety, immanence and apocalypse. Advent, although so brief, is a season filled with rich meaning and sacramental symbols.
I also love the saints. Some years more than others, however, these two loves seem in conflict with each other. This year, for instance, in less than two full weeks of Advent, we've already celebrated eight memorials of the saints. Much as I love the saints, it feels at times like we can't really get into celebrating Advent.
So today I resolved to celebrate in my heart both St. John of the Cross and Advent by finding something that would link them. I found this excerpt from the saints poem, On the Incarnation:
          Men sang songs
          and angels melodies.
          But God there in the manger
          cried and moaned;
          and those tears were jewels
          the bride brought to the wedding.
          The Mother gazed in sheer wonder
          on such an exchange:
          In God, man's weeping,
          and in man, gladness;
          to the one and the other
          things usually so strange.
What a remarkable reflection! On Christmas morning, for which we now prepare, Christ will be seen sharing in our sorrows in this valley of tears. Perhaps even more fantastically, if we prepare well, we will be seen sharing in the joyous strains of the heavenly choirs. What beneficent surprise!
Opinions by blog authors do not necessarily represent the views of Corpus Christi Watershed.