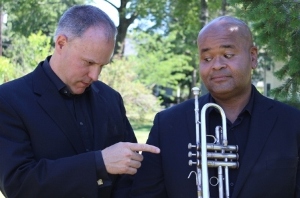 SALM 139 has been one of my greatest sources of strength and inspiration. Asked a year ago to compose an instrumental work for trumpet and organ based upon a psalm I knew exactly which psalm would be my muse: 139 (138).
Richard Kelley, trumpet, whose lyricism can be compared to that of an oboe or clarinet, is another source of inspiration. I am deeply grateful to him. His soul and his humanity is as beautiful as is his playing.
This was recorded at St. Cecilia Church in Boston with the Smith & Gilbert organ.
Listen here to this four movement work, based on Psalm 139:
Richard Kelley, trumpet, has been a soloist with the Boston Symphony Orchestra and plays with the Boston Pops. He has performed with artists such as Andrea Bocelli, Ray Charles, Steven Tyler, and James Taylor. He can be heard on a variety of recordings including the Oscar and Golden Globe-winning soundtrack to Disney's Pocahontas and Stephen Paulus' Grammy-nominated Concerto for Two Trumpets and Band.
"The career of trumpeter Richard Kelley is not only a testament to the versatility of his instrument, but also to the ability of one individual to excel across the broadest possible range of music." — Brian McCreath, WCRB
If you wish to order a score of this work, click here.
Soli Deo gloria
Opinions by blog authors do not necessarily represent the views of Corpus Christi Watershed.