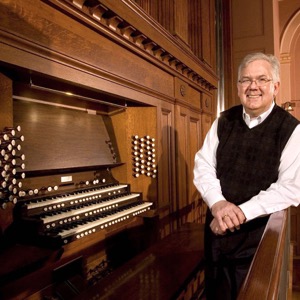 NE OF THE HIGHEST honors awarded to an organist comes from the New York City Chapter of the American Guild of Organists. In the Fall of 2017, James David Christie was named "International Performer of the Year". So distinguished is the honor, it has only been awarded eight times since 2000.
To celebrate this award, Christie will perform a concert on Monday, June 18th at 6pm at Saint Thomas Church Fifth Avenue, New York, New York on the Taylor and Boody Organ, Opus 27.
• Tickets for the concert only are FREE, but one must still reserve tickets! Concert plus reception/dinner are $75. Reserve tickets here.
HE NEW YORK CITY Chapter of the American Guild of Organists writes of Christie:
"The deeply admired and greatly lauded concert career of organist James David Christie has been marked by performances literally around the globe as a solo organ recitalist and as a performer and concerto soloist with the world's greatest symphony orchestras and period instrument ensembles. Especially noted for his engaging solo performances of the works of Renaissance and Baroque composers, Dallas Morning News critic Scott Cantrell stated: 'There's a reason James David Christie keeps getting invited to play Baroque music on instruments like this. He does it with both intellectual understanding and visceral flair – and where appropriate, playfulness. He makes the music live and breathe and dance.' "
S AN EDUCATOR, James Christie has had a deeply profound impact on the lives of countless musicians. While his credits are notable—and far too numerous to list—(e.g., Organist of the Boston Symphony Orchestra, Chair and Professor of Organ at the Oberlin Conservatory of Music, Distinguished Artist in Residence at the College of the Holy Cross, etc.) his love of teaching and dedication to his students set Christie apart.
Having studied with Christie for nearly a decade, I enjoyed a front-row seat to one of the world's great teachers and performers. While the list of his students who have been prizewinners in major international competitions is too numerous to list, he has nurtured and cultivated organists on a broad spectrum of abilities who were hard working and dedicated to the instrument.
He imparts to students many things, but among them is the joy of attending to detail and discovery in scholarship. ("A good organist must also be a good scholar," he would emphasize). A teacher of music and not simply "his way" of playing, he expects one to apply in one area what one learns in another without prompting. As a result, he expects a high level of self-motivation.
He understands that a student's emotional state is tied to their ability to work hard—and he worked us very hard. (E.g., He once had me pick him up at Logan Airport after a concert in Los Angeles. We drove directly to Mission Church in Roxbury where he proceeded to grill me for three hours on Franck's Chorales. As was typical, he joyfully danced around the choir loft, upon occasion stomping to emphasize phrasing. At the end of the night he appeared energized. As a student in my twenties, I was exhausted.)
He teaches with constant encouragement, yet is very tough when warranted. (He called me out when I deserved it.) His expectation of excellence is exceedingly high, and he guides one though the process to achieve it.
Oh, and it is an understatement to say he is funny as heck.
NOTHER SIGN OF A GREAT great teacher is one who wishes to have their students exposed to other great teachers, performers, and experiences. He would have us play for some of the greatest in the world: Marie-Claire Alain, Marie-Louis Langlais, Jean-Pierre Leguay, Jean Boyer, and Harold Vogel to name a few.
Finally, an overriding impression of Christie is the deep joy and love that emanate from his music, and his subsequent desire to impart this love. As a result, many of us owe him our lives.
Opinions by blog authors do not necessarily represent the views of Corpus Christi Watershed.