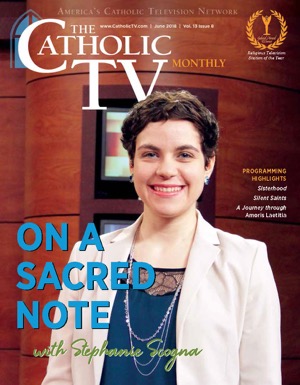 HE CATHOLIC TV Network is launching its thirteen-part series on sacred music beginning, Monday, June 4th. Hosted by Stephanie Scogna (Artistic Director, Boston Art Song Society), the series explores over a millennium of music history through present-day genres and experiences. A most ambitious series, Scogna tackles subjects from Gregorian Chant to Navigating Vatican II on the parish level.
Based in Boston, the series includes visits to various churches, live performance from The Brookline Consort, and interviews with various music directors.
• The show airs (HD) on Mon. 8:30 A.M., Tue. 8:30 P.M., Fri. 12 A.M., and Sat. 5 P.M. (All Eastern times) Beginning June 4, 2018, there will be a new episode each week.
• Download topics, guests, and broadcast schedule here.
• In addition to cable, Catholic TV is available on several streaming platforms. Chick here for various ways to watch. You can also get more information at CatholicTV.org.
Preview: The Brookline Consort being filmed at Saint Cecilia Church, Boston:
Beautiful music, beautiful churches—what more could you ask for? Only 2 more days until the premiere of On a Sacred Note, hosted by StephScogna</a>! Watch it Monday at 8:30am ET and catch it again Tuesday at 8:30pm ET. <a href="https://t.co/P26jn62qfo">pic.twitter.com/P26jn62qfo</a></p>&mdash; CatholicTV (CatholicTV) June 2, 2018
N AN

INTERVIEW

IN Catholic TV Magazine

(June, 2018) Stephanie Scogna talks about the series and what to expect:
"I am beyond grateful that we've been able to pack each episode of the series with so much: educational content, interviews with church Music Directors, and real-time performances of music from throughout the centuries, all filmed in the churches themselves! I consciously chose to feature churches and directors that I believe present coherent and invaluable music programs to the parishes they serve. We have so much amazing talent in the Archdiocese of Boston when it comes to early sacred music, including music directors Richard Clark, John Robinson, Janet Hunt, and Michael Olbash! After watching an episode of On a Sacred Note, viewers will have learned a bit about one of the liturgical music genres and/or time periods, heard an interview with a parish music director about his or her experiences with that music and watched a performance by dedicated musicians who study — and often specialize in — sacred music.
"Just as there is so much respect and awe to be found when we dig deep into the Church's social history — including the challenges, the codification of doctrine, and the abundance of theological writings — so also can we find depth and meaning in her music. At the end of the series, it is my hope that viewers will feel more connected to the composers and musical traditions that played a role in Catholic life over thousands of years. More specifically, my wish is that our viewers will walk into Sunday Mass with a new attentiveness to this aspect of liturgical experience, and that discussion may continue on the parish level regarding how the music of the Church can move us to prayer, excite our spirits, and call us to greater reverence, grounded in the theology and tradition that it represents." — Stephanie Scogna
Opinions by blog authors do not necessarily represent the views of Corpus Christi Watershed.