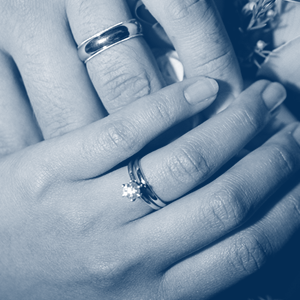 R. JONATHAN GASPAR of the Archdiocese of Boston has kindly recorded the Nuptial Blessings of The Order of Celebrating Matrimony. The new English translation is according to the Second Latin Typical Edition, 1991.
This revised rite has been mandatory for use as of December 30, 2016, the Feast of the Holy Family of Jesus, Mary, and Joseph—a most fitting beginning!
Each Nuptial Blessing is comprised of a short invitation and a prayer. Whether sung or spoken, the rubric calls for silent prayer in between. (For the purposes of these practice recordings, there is simply a quick pause.) After the silent prayer, the chant elevates into a Preface-like reciting tone, marking a distinct transition in the blessing.
The rubrics also indicate the following:
205. In the invitation, if one or both of the spouses will not be receiving Communion, the words in parenthesis are omitted. In the prayer, the words in parenthesis may be omitted if it seems that circumstances suggest it, for example, if the bride and bridegroom are advanced in years.
FR. GASPAR ELOQUENTLY emphasis key words and phrases, underscoring the beauty of the sacrament. Note especially how he sings in Nuptial Blessing A, "May her husband entrust his heart to her, so that, acknowledging her as his equal and his joint heir to the life of grace, he may show her due honor and cherish her always with the love that Christ has for his Church." I found this to be deeply moving.

Nuptial Blessing A is sung here in a higher key. B and C are in slightly lower keys. A is the longest (4:30). B is much shorter (3:40). C is by far the shortest (2:40):
      * *  YouTube • Nuptial Blessing A
      * *  Mp3 Download • Nuptial Blessing A
      * *  YouTube • Nuptial Blessing B
      * *  Mp3 Download • Nuptial Blessing B
      * *  YouTube • Nuptial Blessing C
      * *  Mp3 Download • Nuptial Blessing C

PLAYLIST:
Opinions by blog authors do not necessarily represent the views of Corpus Christi Watershed.