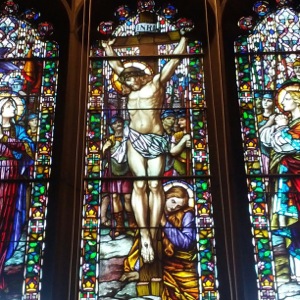 IETERICH BUXTEHUDE (1637-1707) was a direct influence on Johann Sebastian Bach—and for good reason. His development of themes and compositional symmetry were highly lauded by Bach himself. This choral prelude—a favorite of Marie-Claire Alain—is based on the famous melody by Hans Leo Hassler (1564–1612), which we now recognize as "O Sacred Head Surrounded." Hassler's tune has accompanied a few different texts, including the religious text with the title "Herzlich tut mich verlangen" written by Christoph Knoll (1563–1621). Buxtehude's title here, "Ach Herr, mich armen Sünder" ("Ah Lord, poor sinner that I am") is from a text which pleads to God for forgiveness and mercy.
As the spirit moves, Buxtehude's treatment became rather unintentionally one of the greatest meditations on "O Sacred Head Surrounded." Timeless and simple, exquisite ornamentations reveal tortured, yet divine suffering. Typical of Buxtehude, the theme seamlessly weaves through the various voices, often unnoticed, and in service to the divine.
This was recorded on the 1999 Smith & Gilbert Organ at St. Cecilia Church, Boston.
      * *  Mp3 Download • Dieterich Buxtehude, "Ach Herr, mich armen Sünder" | BuxWV 178
Opinions by blog authors do not necessarily represent the views of Corpus Christi Watershed.