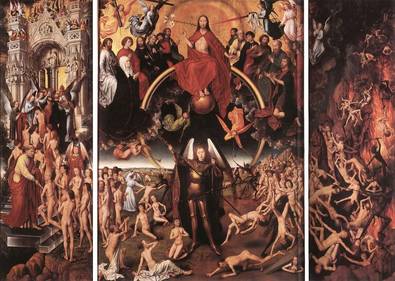 HE PROPERS for Advent provide us with ample opportunity for contemplating the Last Judgment.
Hans Memling, a leading painter of the Northern Renaissance, painted a spectacular representation of the Last Judgment in 1467. He shows Christ atop a rainbow as St. Michael weighs souls according to the scales of justice. Justice and Mercy emanate from Christ's being in the form of a lily and a flaming sword. Angels flit overhead in the central panel carrying the instruments of Christ's passion. (Please click on the images to view them larger.)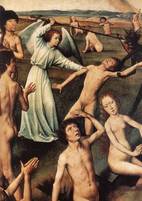 IN THE DISTANCE, we see the dead crawling out of their graves only to be fought over by angels and devils. On the right panel, the damned are dragged into flames by demons. On the left panel, the just are greeted by St. Peter and receive their garments as they enter heaven. A closer examination of the left panel reveals all sorts of wonderful details about Memling's heaven. The souls of the just enter via the main portal of a gothic cathedral under a frieze of God the Father creating Eve from Adam's rib. Angels sing and play instruments from the roof and toss flowers down on the faithful souls that process into heaven.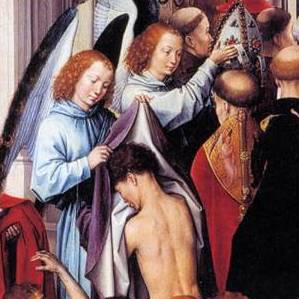 This is the gospel for the 1st Sunday of Advent:
Luke 21:25-33   At that time, Jesus said to His disciples: There shall be signs in the sun, and in the moon, and in the stars; and upon the earth distress of nations, by reason of the confusion of the roaring of the sea and of the waves: men withering away for fear and expectation of what shall come upon the whole world. For the powers of heaven shall be moved; and then they shall see the Son of man coming in a cloud with great power and majesty. But when these things begin to come to pass, look up and lift up your heads, because your redemption is at hand. And He spoke to them a similitude: See the fig tree, and all the trees; when they now shoot forth their fruit, you know that summer is nigh; so you also, when you shall see these things come to pass, know that the kingdom of God is at hand. Amen I say to you, this generation shall not pass away till all things be fulfilled. Heaven and earth shall pass away, but My words shall not pass away.
Opinions by blog authors do not necessarily represent the views of Corpus Christi Watershed.