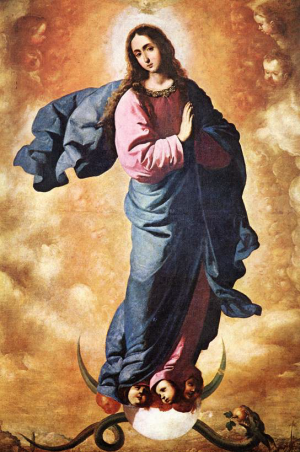 OLY DAYS OF OBLIGATION are a relatively contentious subject among liturgical geeks like me. Questions like: Which days get precedence? Are/Should the obligation be lifted when the day falls on Saturday? Can you "double dip" on obligations (please don't go down this rabbit hole)? The Solemnity of the Immaculate Conception of the Blessed Virgin Mary hits many of these questions.
In the United States, the obligation of several of our holy days is abrogated (made non-obligatory) when the feast falls on Saturday or Monday. While there is plenty of legitimate debate over whether this should be the case, the bishops nonetheless have the authority to lift this obligation. Next year (2014), for example, All Saints will fall on a Saturday, and the obligation to attend Mass will be lifted.
For that principle, though, the Solemnity of the Immaculate Conception is the exception. Even when December 8 falls on a Saturday or Monday, it retains its obligatory status because Mary of the Immaculate Conception is the patron saint of the United States. She holds a special devotion in this country and so is celebrated on any day.
When Immaculate Conception falls on a Sunday, however (like this year), the celebration is shifted. "Wait, Andy," I can hear you say, "I thought that in your previous, handsome, brilliantly insightful post that you showed that Solemnities take precedence over Sunday celebrations." Of course they do, my fellow calendar enthusiast, when that Sunday is in Ordinary Time or in the Christmas Season. However, according to the General Norms on the Roman Calendar (#5):
Because of its special importance, the celebration of Sunday gives way only to Solemnities and Feasts of the Lord; indeed, the Sundays of Advent, Lent, and Easter have precedence over all Feasts of the Lord and over all Solemnities. In fact, Solemnities occurring on these Sundays are transferred to the following Monday unless they occur on Palm Sunday or on Sunday of the Lord's Resurrection. (emphasis mine)
Sundays of Advent have precedence over all Feasts of the Lord and Solemnities and should be transferred to the following Monday. Therefore, this year we celebrate Immaculate Conception on Monday, December 9, since Sunday, December 8 is the 2nd Sunday of Advent. So, you are obligated to attend Mass on both days, right? Not so fast. According to this past February's newletter from the USCCB Committee on Divine Worship:
The obligation of the faithful to attend Mass remains attached to the day itself (December 8), however, and so it does not transfer with the liturgical observance.
This year, the obligation to attend Mass on Immaculate Conception is lifted. I strongly encourage you to attend anyway, of course, since this feast should hold a special place in our devotions as Christians in general and Americans in particular.
Tune in next time for some more calendar geekery.
Opinions by blog authors do not necessarily represent the views of Corpus Christi Watershed.